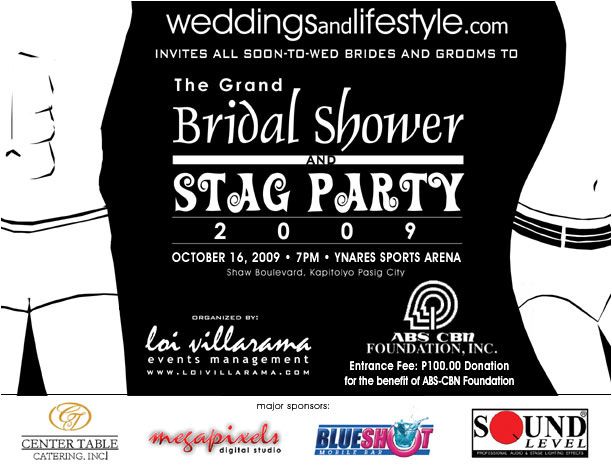 Remember last year's Successful Grand Bridal Shower held at the 1 Esplanade, Roxas Blvd? Here's great news! It's back and even got better! Loi Villarama Events Management, co-presented by Weddings and Lifestyle.com brings to you again it's 2nd: "The Grand Bridal Shower 2009". Only This time it is complimented by a "Stag Party" at the other side of the show!  So Soon-be Brides and Grooms will surely enjoy! Woooohoooo! and again… virtually it's FREE (See below for details).
Excerpts from The Weddings and Lifestyle website:
The Grand Bridal Shower & Stag Party is the BIGGEST social event in the wedding industry primarily for soon-to-wed brides and grooms & the members of their entourage. It will be held on October 16, 2009, 7pm . More than 1,500 guests are expected to grace the said event, majority of which are soon-to-wed couple. Participants would have to submit proof that they are getting married beyond October 16, 2009 to be eligible to attend the party.  This event is organized by Loi Villarama Events Management and co-presented by WeddingsandLifestyle.com.
The event's main highlight will be a Fashion Show spiced-up by a Summer Wear, Sleep and Private Wear fashion line to be modeled by some of the hottest mannequins in the country. Fun games and a front act band will welcome the guests & a popular show band will cap the only Grand Bridal Shower & Stag Party in the metro.
Its' a party with a heart! Participants are required to donate P100.00 to ABS-CBN Foundation who will be setting up a booth and sell merchandise during the event. To add more fun and to reward the participant's generosity, every P100 donation to the Foundation will entitle them to a "Play Money" which they could use to vote for the King & Queen of the Night amongst the 12 Calendar Boys & 12 Calendar Girls parading on the ramp. The play money also serves as a raffle coupon that gives the participant a chance to win a 3days-2nights Honeymoon Suite Accommodation at Boracay Grand Vista Resort and Spa.