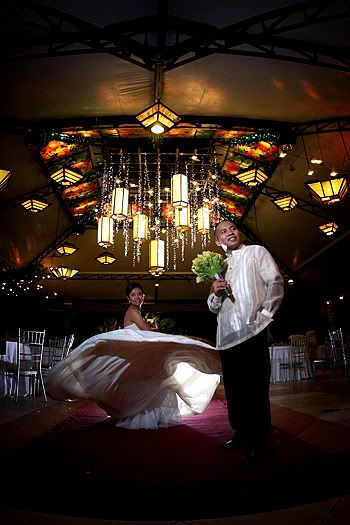 We were fond in having Francis and Airene.  They booked us more than a year before their wedding, not to mention, they didn't have any plans yet, no church reservation, no reception venue, not even the wedding date! Haha!  It was really funny, we learned just last night that they booked us out before they got engaged! They were showing their friends the booking receipt, and telling them that they were getting married… what about the Engagement ring?!  Haha!
Here are some shots during their preps…
Here is Airene… So lovely!… such a standout make-over by none other Jeng Sy Flores.
and here is the lucky, lucky groom! Francis!
..and here is some from the ceremonies!
The wedding went on smoothly, it was all fun… it was even snowing?!!! Duh!
There was dancing… and the Paparazzis!
…and a special friend who wished a song!
but my favorite part of their wedding was during their reception when the groom performed a sexy dance before removing the garter from the bride…
…and a lucky Bloke who was ganged up by the singles!
(second curtain flash – courtesy of Nikki, Nice! Nice!)
Photo after the reception at Gazebo Royale.
…and let's not forget their Beautiful wedding onsite video… with the song of their choice… Beautiful Days! Here it is…

Francis and Airene wedding onsite video from Ferdie Flores on Vimeo.
To Francis and Airene… keep throwing your contagious smile! Congratulations and Best Wishes!
Preparations:     Crowne Plaza, Ortigas Center, Pasig City

Ceremonies:     Sta. Rita de Cascia Church, Phil-Am Homes, QC


Receptions:        Gazebo Royale, Quezon City