Posted by Ferdie Flores, MSCE , Philippine Wedding Photographer
Event date: Dec 15, 2008
Preparations: Manila Hotel
Ceremonies: Manila Cathedral
Reception: Casa Blanca, Intramuros, Manila
HMU: Carlan Teng of Make-up by Jeng and Carlan
We were introduced by my Mom when Enteng's folks were in Divisoria, buying some stuff for Enteng and Jessica's wedding! My Dad and Enteng's knew each other way, way back!
Yup!, it was Enteng's folks who were preparing for their son's wedding! It was because Enteng and Jessica are US residents.
Enteng and Jessica has been around the world!… and by the way Jessica, the bride, is not a Filipino, probably understands tagalog by now.  She's a pure Chinese.
It was a fun, fun wedding. Enteng and Jessica's friends came from different parts of the world, there was a groomsman who is Singapore resident who incidentally was the translator for Jessica's parent who didn't speak much English!.
Here is Jessica the bride… She certainly looks and acts like Kim Chiu!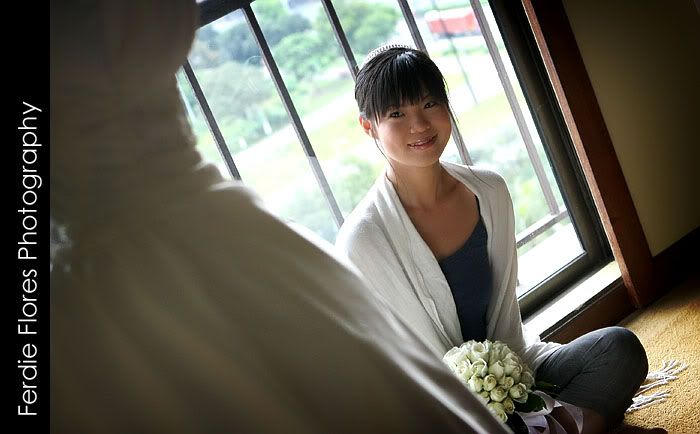 …the Handsome groom, Vicente! "Enteng" preferebly!
People may be wondering… this is the shot taken at the Manila Cathedral's photographer and videographer's dedicated lounge! They have the best seat in the house, but they have to have long lenses!
…and here is a liitle bit of Chinese tradition: The Tea Offering!
…and then a new one!  The groom wore the garter!!!
and let's not forget… Inisting on their favorite, probably theme song, "A groovy Kind of Love by Phil Collins… watch their onsite wedding  video here:

Enteng + Jessica Onsite wedding video from Ferdie Flores on Vimeo.