Posted by Ferdie Flores, MSCE, Philippine Wedding Photographer
Location: Fairways and Bluewater Boracay Resort, Island of Boracay
HMU by: Jeng Sy-Flores
Where were we 2 weeks ago? We were at the Island of Boracay and did Singaporean's Jeremy and Michelle Boracay Prenup/Vacation … We arrived mid day of Aug 30 and whew, it was indeed a very tiring ride and we ahd to start by 3PM… so off to Fairways and Bluewater Resort we went.
And to start with, Jem and Michelle brought with them some decent props! Hehe! … they had with them Wedding attire complete with bouquet! I was actually intending an outdoor shoot!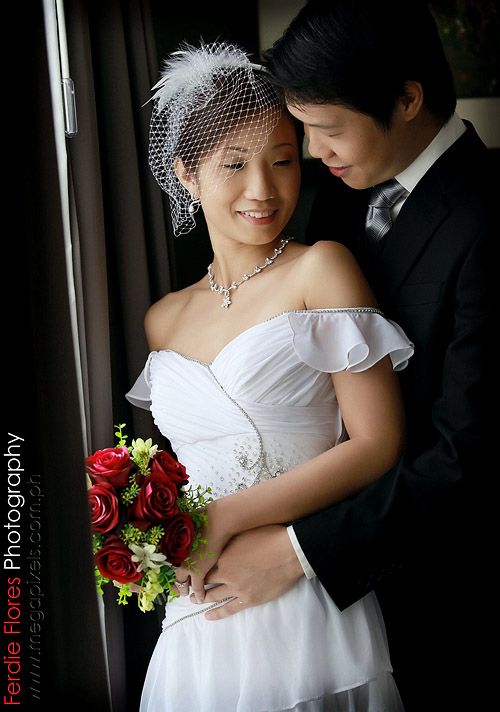 Fairways Resorts was too nice not I didn't find it too "Boracayish", so we did some clicks and luckily, Michelle and Jemery agreed to come with us at the other side of the island (at stations 1,2,3)…
We hurdled to the other side of the island just in time for Boracay's sunset but darn the clouds were too thick during that afternoon!
I think the shoot we had was not enough so we invited Jem and Michelle to do another go the next morning before they fly back to Singapore… it was a good thing they agreed! 🙂
Come next morning we did these shoot at the Resort's beach! The water was calm and crystal clear!
and before they left, we had a chance to have a peek at the resort's Butterfly farm! Butterfly? I couldn't find any! 🙂
To Jem and Michelle we hope to see you guys again very soon! Good luck and hope you ahave fun with the wedding preparations!  Give me a buzz again if you need any help!  Congratulations!